FYI
The Michigan Department of Environment, Great Lakes, and Energy (EGLE) has important information on their website concerning harmful algal blooms (HABs). Please visit https://www.michigan.gov/egle/about/organization/water-resources/assessment-michigan-waters/harmful-algal-blooms.
A special message from the Invasive Species Committee. Eurasian Water Milfoil found in Crooked Lake. Click HERE for the complete story.
About the Swimmer's Itch initiative. The PCLA, with support from Tip Of the Mitt Watershed Council, has funded a research study to better understand the sources of swimmer's itch in our lakes.
More information on swimmer's itch can be found at watershedcouncil.org.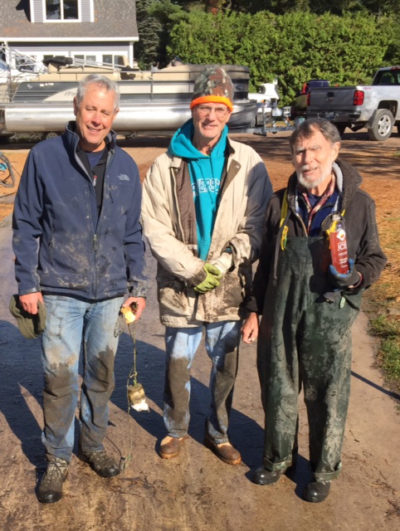 The work goes on! Tom Oelke, Mark Thompson, and Ray McMullen on October 22, 2021, pulling invasive species control mats on Crooked Lake.
Photo Courtesy of Ryde Marina.